While there may be some rather significant obstacles in the path of the Sharks, who will seek to finally capture a Super Rugby trophy in 2015 – the last year before the competition as we know it disappears – should they fail to do so, they won't be able to use their draw as an excuse.
Just as was the case this year, a favourable itinerary sees the Shark afforded the opportunity to build up a real head of steam (and hopefully a good log buffer) before a late tour, with the Waratahs looming as the only major hurdle on that trip.
Home derbies against the Cheetahs and Lions kick off the campaign, before a three-week block that will comprise away matches against the Bulls, Stormers and Cheetahs – a good early challenge. This is followed by another tough block of matches against foreign opposition, with the Chiefs, Forse and Crusaders taking it in turn to visit Kings Park.
Return fixtures against the Bulls (away) and Lions (home) complete the pre-tour phase and there is a handily placed bye just before the Sharks head overseas to take on the Highlanders, Hurricanes, Waratahs and Reds during the month of May. Their pre-tour home game, often a banana-peel fixture, is against the lowly Rebels next year. That game is followed by a bye.
The final game is a home match against the Stormers. The Sharks will not play against either the Brumbies or the Blues in 2015.
Adding to the loveliness next year is the absence of the stupid June international break, meaning Super Rugby will be completed in one stretch, from February through to July.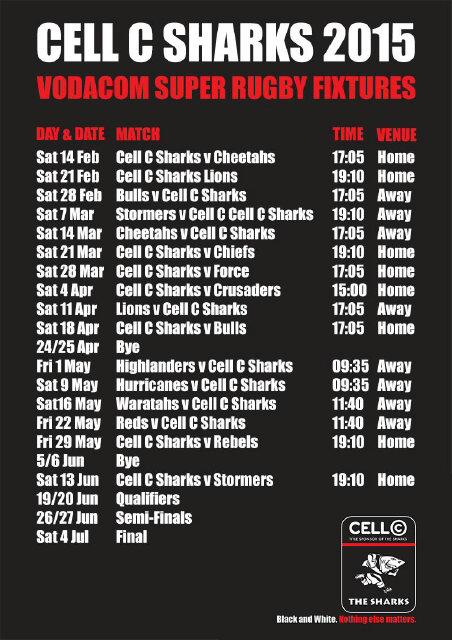 Tweet