Five players were officially welcomed to Super Rugby by the Sharks after Saturday's match against the Bulls (even though one of them didn't actually play on the day).
Fred Zeilinga, who is yet to open his account in 2014, earned a Super Rugby cap against the Southern Kings in the Sharks' final match of the 2013 season, but given all the shenanigans going on at the time (what with interim coaches and a team that, frankly, just wasn't in the mood for celebrating even despite a big win on the day) clearly never received his official "cap" (yes, there is actually a real cap involved). This oversight was corrected on Saturday night in the Sharks change room.
Joining him were four other players who made a first appearance for the Sharks in Super Rugby on Saturday. Lourens Adriaanse (30 Cheetahs appearances) and SP Marais (8 Kings appearances) both made franchise debuts for the Sharks against the Bulls, while Stephan Lewies and Heimar Williams, who came on as replacements, made their respective first apeparances in the Super Rugby comeptition for any side.
Congratulations to our five new Sharks. The picture below is courtesy of Charl McLeod's Twitter feed.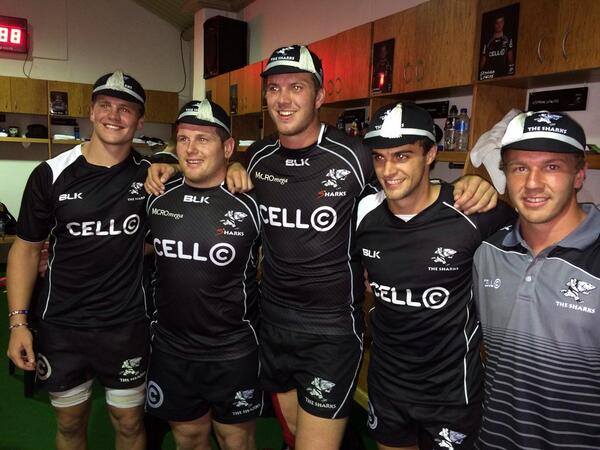 Tweet