Ryan Strudwick started his rugby career at that famous rugby school, Wartburg Kirchdorf School (which for most of its history has produced more Springboks than Michaelhouse! ). When I was in Standard 9, he was my captain in the 1st XV, playing at eighthman. From there he went on to play for the Sharks (I remember watching him play for the Sharks against the British Lions in 1997 in Durban) and several sides in England. He played for London Irish from 1998 to 2006, captaining them for three season and leading them to cup glory in the Powergen Cup. He also won several caps for the Barbarians. Since hanging up his boots, he has gone into coaching, featuring as Director of Rugby at Maritzburg College and Assistant Coach to the successful 2010 Sharks Currie Cup squad. He is now the "Junior High Performance Manager" at the Sharks. So he is a rugby man through and through and I am very happy to have him in the Sharks setup. I am also very grateful that he took the time to answer my questions for all the fans here at Sharksworld.
PS:   Hi Strudders! Thanks for being happy to chat to me. Congrats again for the brilliant result in the Varsity Shield on Monday! But before we talk more about that, let's start off with some history: going from Wartburg High School to captaining London Irish for three seasons, winning Player of the Season there three times and captaining them to Cup glory…and then moving back to SA and ultimately ending up at the Sharks…is a long way to go. What have some of your highlights been on that journey?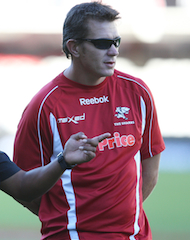 RS:    It has been a long journey with plenty of knocks to the head on the way, so my memory is pretty hazy. The things that stand out in no particular order:
-My first start for the Sharks – I actually remember that clearly, not just because it was my first start, but because I also got injured!
-Winning the Powergen Cup with London Irish.
-All my caps for the Barbarians.
-Losing the final of the Club Champs with Rovers and then winning the National Club Champs with Rovers two years later.
-Winning the 2010 Currie Cup with the Sharks as an assistant coach.
-And then obviously winning the Varsity Shield!
PS:     What have you enjoyed most about your time with the Impi squad?
RS:     Well, winning the Final of course; that was the best part! But the whole season was enjoyable. Seeing the players improve and develop over the months was very rewarding and a real highlight.
PS:    How did you experience the final on Monday?
RS:     The final was pretty nerve-wracking. We were confident that we could win but knew we would have to be at our best. Fortunately the guys rose to the occasion and produced a good performance. I had a great sense of relief after it was over.
PS:     There was obviously a marked improvement throughout the season, particularly against Wits from the first result, through the second, to the final. What contributed to this improvement?
RS:     When you have a young side that have not played much together, you should always have a big improvement as a season progresses. This group were keen to learn and showed a great determination to defend their try line. After our second defeat to Wits, we knew we could beat them. They were showing a few weaknesses and we were also at full strength for the final for the first time in the season. We made a big call in our selection of that final team, playing that side together for the first time…and it proved to be the right one!
PS:      What further improvements will you be looking to implement looking forward to the next campaign in 2016?
RS:    We will be looking to encourage more top players at the Sharks to study and at the same time build a closer relationship between the Sharks and UKZN. We also need to help the current crop to pass so that we can keep the bulk of our squad.
PS:    Why is the Varsity Cup/Varsity Shield important to the major Unions?
RS:  Firstly it is a way of attracting young talent to the region. Secondly, the big Varsities put a substantial amount of money into their squads, which means the Unions don't have to spend that much on junior contracts. And thirdly, with the way the rules are now structured, you can tie young players into a region for a few years while they are studying. Not many boys reach their peak at 19 or 20, so to keep them around till they are 22 or even 25 in the Varsity system is great for their development! Unions can then get them back into their systems if they have matured and turned into top players.
PS:    What still needs to happen before the Impi is ready to move to the Varisty Cup and to compete there?
RS:    We will need a lot more players of quality to strengthen our squad. We don't have the depth required to compete at that level. We will need the Sharks to assist with players and to encourage their current juniors to study. I think at the end of the day we are going to have to move the Impi to Durban and work closely with the Sharks.
PS:      Your official title at the Sharks is "Junior High Performance Manager" – what does that mean in terms of your responsibilities? How have you experienced this setup?
RS:   I am in charge of all the junior contracted players from a playing and on-field side of things. Instead of our juniors only getting together just before the junior Currie Cup, we start working with them from November. u19 and u21 squad training has started already. We are tweaking things here and there as we go along as this setup is a work in progress. To be honest, anything at the moment is better than what we had. We are still learning, but the setup changes have really been a big help.
PS:   What are your thoughts on the junior structures and the progress of junior players at the Sharks?
RS:  We were not totally happy with the structures as they were before – that's why we are trying to implement these changes. With these changes in place, hopefully the progress of the young players will be fast tracked and in the long run we will have more junior players representing the senior side. This in turn will save the union a lot of money.
PS:    The attention now switches to the Vodacom Cup – what are your thoughts on your squad and the prospects in that competition?
RS:  The honest answer is that the Vodacom Cup team is the most frustrating team to coach. You never have the same team from week to week and you never know who your team is going to be until the Thursday! Most often you are given senior players who have been dropped from the main team and they are not too excited to be playing for you. That means motivating them is a huge challenge. Saying all that, we do have a nice young talented squad that was looking strong until the Sharks lost a number of key players. They will still fare well and we believe that we will make the knock out section of the competition. Although we now lose a lot of players to the senior setup, we still have a strong squad.
PS:  There is obviously a lot of unhappiness amongst the fans regarding what has happened in the senior side in recent weeks. What are your thoughts on the way forward?
RS:   There is no doubt that Sharks fans can be pretty fickle. And I understand their frustrations. Believe me, all the coaches are frustrated too. It's tough being a coach when your players are not playing to their potential. There is no fast cure for this either. We are quick to forget that The Sharks had won 3 tough games on the trot while they weren't playing well and there was very little praise; then they lose one – admittedly it was a hiding and a poor performance – but it was also against a good team, and everyone is panicking and wanting blood. We need to show support, rally together and have patience. This is a process and things are not going to come right over night. The new coaches need some time to implement their ideas.
PS:  What players in the Impi squad should we most keep an eye on and expect to see more of at the Sharks in the seasons ahead?
RS: There were a number of quality players in the Impi team, some of whom have already played representative rugby. The ones that are already contracted by the Sharks and who will definitely feature in the age group teams are Wayno Visagie , Christie vd Merwe (both u19), Chris de Beer,  Retief Marais, Johan Du Toit , Rowan Gouws , Inny Radebe, Marius Louw and Marcel Coetzee (all u21). I will stick my neck out and say all these boys will play for the Sharks senior team at some stage (if they stick around). Some of them will even do so very soon. Inny is a real talent, probably the most promising I have coached since Pat Lambie in his first year. Louw is not far off him either. The Captain Lwazi Ngcungama and the other flank Sanele Malwane could also see some Vodacom Cup action in the next few weeks.
PS: Thanks a stack Ryan for your time and effort to share your thoughts. Congratulations again on the wonderful result in the Varsity Shield. And good luck for all your responsibilities for the rest of the season. We are backing you guys and wishing you all of the very best!
Image courtesy World Artists
Tweet