As defending champions, we entered this year with a lot of confidence, yet slightly weary of not having our Man of the Match from 2014 Andre Bloem in our starting line-up. Nevertheless we thought we still have a good chance and need to make sure we defend our title with pride and we sipped on a couple Castle Lagers to ease the nerves.
Write-up courtesy Grant Wardle.
Things started off a bit shakily with a bit of a dodgy team name but we ended up settling on The Lip Readers with the team consisting of: Caleb Charles, Lyle Linderboom, Grant Wardell, Dustin Marks, Matthew Pohl, Alec Sacks, Julian Pace and Nic Snyman.
The evening is set up with a first and a second half and our team put together a good first half performance and despite over thinking a couple questions, we finished the first half with 23 out of 30 correct answers, which is quite a mean feet especially with the difficult nature of the questions which David Brooke from Prosport International had expertly set out.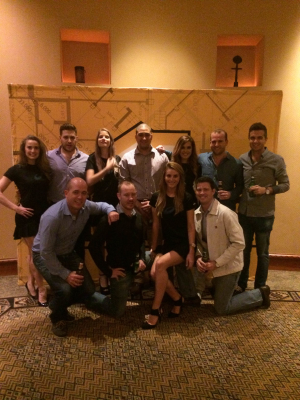 We had a quick dinner break with some great food from Sibaya Casino had a quick team chat we knew we needed to make a near perfect performance to catch up the 3 points we were behind the leaders. With rugby as a topic which was still to come we thought we were still in with a chance.
A solid team effort in the second half performance and some stupid mistakes, obviously Johnny Wilkinson has the most drop goals in test history! Unfortunately we could not emulate the heights of last year and we ended up in 3rd place on 44 out of 60 points and won ourselves an awesome Café Luxe hamper of coffees. Just the thing to keep us awake thinking about where we went wrong!
The top spots of the podium won themselves some amazing prizes from Builders with a lawn mower going to each person in the second place team and the winners each taking home a router and tool set.
A big thank you must go to Builders for sponsoring an amazing event and hopefully we will be back next year to get our hands on some of their power tools.
David Brooke and his team as always did an amazing job in putting together and outstanding evening: with Castle Lager, difficult trivia and good friends discussing sport what more could a guy ask for? Oh the judges' assistants weren't too bad!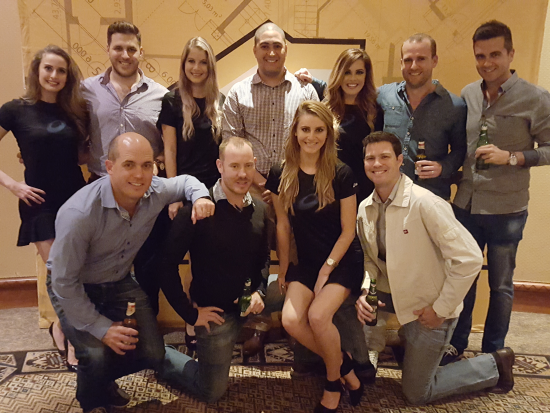 Tweet