The Cape Town leg of the Builders Sports Quiz, presented by Sun International takes place at GrandWest on Wednesday 12 August, 2015.
With the Durban leg in the bag and the team from the Sharks emerging victorious with the likes of rugby stars Tera Mtembu and S'bura Sithole in their team, it's anyone's guess which team will walk away with the title in Cape Town.
Event organiser David Brooke from Prosport International reckons it's going to be a tightly-fought evening.
"Last year we had some fantastic competition with the winning team coming from behind to take the title, so I'm expecting some seriously good competition this time around. We have prizes from our title sponsors Builders and their suppliers for our top winners and with our other partners such as Caffeluxe, Clere Active and ASICS, we will be giving away prizes worth over R50 000.
"We welcomed Sun International and Sunbet as presenting partners this year and they have added so much to the series already and we can't wait to have them in the mix at GrandWest."
Elouise Matthys, GrandWest Public Relations and Promotions Manager, is once again looking forward to hosting the event.
"The Builders Sports Quiz presented by Sun International is always such a fun evening, especially for our guests who always enjoy mingling and competing with their sporting heroes in a social environment. We look forward to yet another wonderful evening."
There are limited tables available, so book soon to avoid missing out on a great evening of sports trivia.
Booking details:
Date: 12 August, 2015
Time: 18h30
Venue: Market Hall, GrandWest
Cost: R3 200 for a table of 8 (Individual tickets not for sale). Includes a full dinner, Castle Lager and Castle Lite Beer and some soft drinks.
Contact David Brooke
Email: [email protected]tinternational.com
Cell: 082 821 8072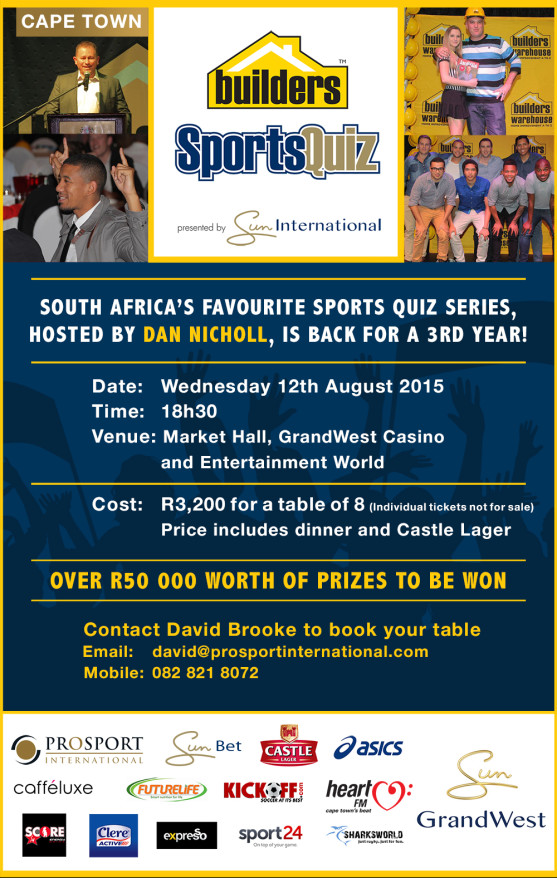 Tweet