This story has been a bit of an open secret for months now, but with a major PE-based newspaper running with a confirmation this morning, it's as good a time as any to let the cat firmly out of the bag. SA Schools flyhalf and schoolboy rugby prodigy Curwin Bosch has opted to join the Sharks next year, rejecting offers from virtually every other major union in the process.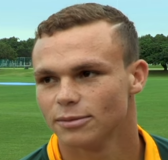 According to the front page of The Herald, 18-year-old Bosch will join the Sharks on November 30 for pre-season training. Long a big name on the schoolboy scene, the Grey High flyhalf has really caught the eye of the last couple of years, being marked as a stand-out player at Craven Week level in both 2014 and 2015. In fact, in an interview with City Press after this year's competition, former Bok centre Gocbani Bobo paid perhaps the biggest compliment a young flyhalf could receive, when he compared Bosch to Dan Carter at a similar age. "He is just so polished and so composed under pressure," Bobo told the paper.
Having been chased (and chased hard) by the Cheetahs, Bulls, Lions, Western Province and the local EP Kings, Bosch finally made his decision to join the Sharks, telling the Herald "it was a difficult decision for me, but I just felt the Sharks will give me better opportunities." Bosch has signed a 2-year deal, but has dismissed speculation that his salary will be a whopping R350k per year, as was earlier reported. "I was surprised when I saw that figure in the newspaper and I don't think it's fitting to talk about those things in the media," he says.
The timing of his arrival in Durban is interesting. Most under 19 players reporting for duty in their first year are told to join the Academy in late January and will then start training with the junior squad ahead of the under 19 tournament later in the year. Bosch's arrival date of 30 November does suggest the he might skip under 19 rugby altogether, which would not be altogether unwarranted for a player of his calibre. It would certainly not be his first taste of training with the big boys in Durban anyway – he confirms what was reported earlier in the year. "I was flown down to Durban and trained with the Sharks and knew that was the place for me. I did not have to fit in."
Welcome to the Sharks, Curwin! We look forward to many happy years together.
Tweet