World of Rugby in Johannesburg is hosting a special event for Sharks fans, to celebrate the launch of the new 2016 Sharks Super Rugby jersey.
The Sharks will unveil the hot new BLK-manufactured shirt at a special event in Durban on 3rd December and Johannesburg-based fans can get theirs at World of Rugby on Saturday at a never-to-be-repeated introductory price. What's more, World of Rugby (together with BLK) have managed to secure three high powered Sharks players to host a signing session at their retail outlet in Randburg on the day. This will be happening on Saturday 5 December from 10:00 to 14:00.
On the day they will have a beer tent, music, a jumping castle and free boerewors rolls to every Shark supporter who purchases the new 2016 Super Rugby Replica Shirt.
See the below flyer for more details and be sure to get out there. We'll announce an exciting competition together with World of Rugby in the near future too.
BE SURE TO MENTION SHARKSWORLD WHEN PAYING FOR YOUR JERSEY ON THE DAY – YOU'LL ENJOY AN EXTRA 5% DISCOUNT
World of Rugby, the largest dedicated rugby shop in Africa, is located at 83 Bram Fischer Road, Randburg, or on-line at WorldOfRugby.com.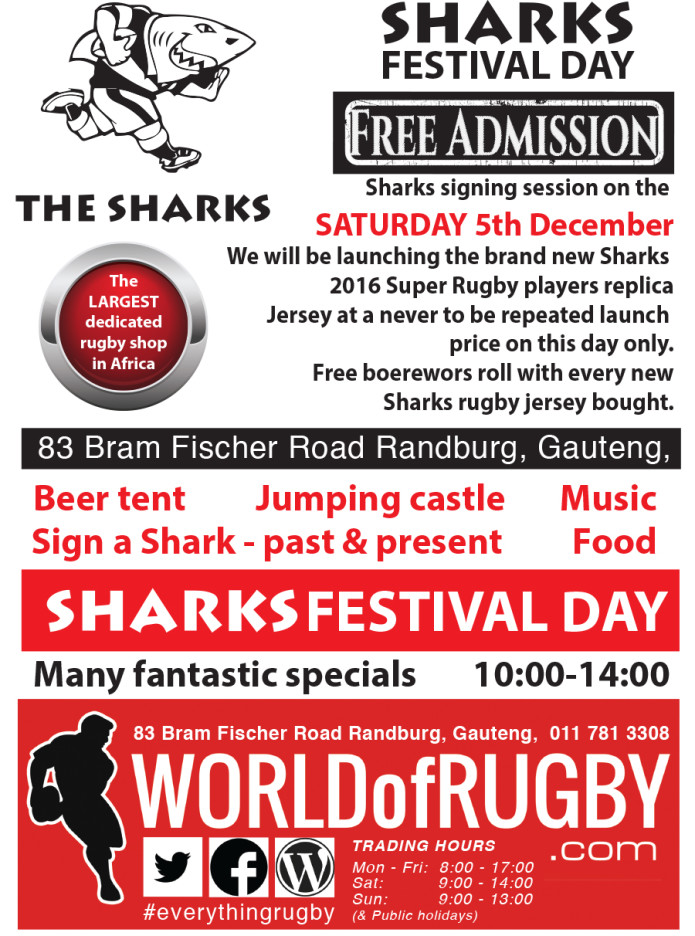 Tweet