Durban – The battle for dominance of KZN's coastline is set to resume on Tuesday, 15 December when the Sunfoil Dolphins tackle the Cell C Sharks in the Hollywoodbets Showdown at the Coast at Sahara Stadium Kingsmead in an evening of T20 action that is all about fun, families and easing into the festive season.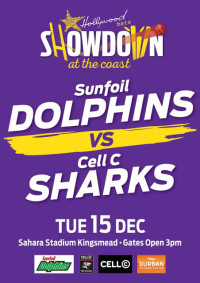 Despite sharing South Africa's East Coast, there will be no love lost between two Durban-based sporting giants as a healthy dose of competitiveness and endless banter is exchanged between the two outfits, both eager to add to their solitary victory of previous encounters.
"We won the first Dolphins/Sharks clash and lost the second so we will be going all out to ensure we right the wrongs of our most recent encounter and put one over our rugby neighbours!" confirmed Sunfoil Dolphins captain Morné van Wyk definitively.
"We come to Kingsmead this December with momentum from our win the last time we met and one clear mission – to send the Dolphins boys running with their tails between their fins again!" countered Cell C Sharks player, Tera Mtembu.
While both units head to the nets to work on their match faces and their skills alike in order to best challenge for another year's bragging rights, the day is also set to carry added meaning with sponsors of the event Hollywoodbets set to make sizeable contributions to two beneficiaries totaling no less than R20 000 each.
"We will be contributing R20 000 to Umlazi Cricket Club and the Malvern Children's Home, two causes we are passionate about and are very excited to be able to assist even further, beyond our current involvement with these initiatives," explained Hollywoodbets Media & Communications Executive, Devin Heffer.
"Every six either the Sunfoil Dolphins or the Cell C Sharks hit on the night will also earn the charities an equal share of an additional R500 per six!
"Hopefully this will serve as a little extra motivation for the players to work hard on their games in the nets to ensure they clear the rope regularly come match day!" he added.
Fans are urged to purchase their ticket for this unique clash from www.ticketpro.co.za now and to turn up on the night, draped in their supporters gear of whichever team they are backing.
There will be countless giveaways to be won, the renowned Hollywoodbets DolFAN Army will be in full force at the Purple Patch on the East Stand Grass, both teams' legendary cheerleading squads will be giving it their all throughout while a famous personality or two may just pop up in officials gear as well.
A full, action-packed line-up throughout the late afternoon and evening is set to further heighten the day's excitement.
The eagerly awaited Hollywoodbets Showdown at the Coast is set to be preceded by a legendary Sixes clash of the two codes' stars of yesteryear when Lance Klusener's Dolphins Legends come up against the John Smit led Sharks Legends at 16h00.
Renowned Durban-based performers Gangs of Ballet will then look to rock a packed Sahara Stadium Kingsmead from the Cell C stage at 17h00 before the current Sunfoil Dolphins and Cell C Sharks crops take to the field at 18h00.
Press release provided by Gameplan Media.
More information can be found at www.dolphinscricket.co.za
Match Details:
Sunfoil Dolphins v Cell C Sharks
Date: Tuesday 15th December
Gates Open: 3pm
Dolphins Legends v Sharks Legends: 4pm
Gangs of Ballet LIVE on Stage: 5pm
Dolphins v Sharks T20: 6pm
Tickets available at www.ticketpros.com / http://ow.ly/Vquj2
Tweet