Friends, I have a dream and I need YOU to help me make it happen.
I'll cut to the chase. Sharksworld, over the course of the eight years that it's been alive, has grown a fair bit and outgrew the capacity of shared hosting platforms some time ago. Keeping a site this big running requires a dedicated server and while not prohibitively expensive, covering the cost of hosting and other running expenses of the site is becoming increasingly difficult.
I have tried hard over the last few years to secure enough advertising revenue to cover my costs but this is proving more and more difficult and time consuming each year. I do not ever want to subject you guys to annoying, misleading and just downright "bad" advertising on this site and my dream, in fact, is to provide the best possible experience to all of my readers; one that does not, in fact, include any advertising whatsoever. I would love Sharksworld to be self-funding and self-sufficient without needing to rely on advertisers and this is the dream which I need help in order to realise.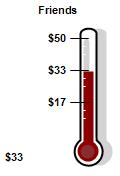 What I'm looking for is readers and posters to sign up to become a "Friend of Sharksworld". The commitment from your side is to pay me £1 a month (that's roughly R25, or the cup of a price of fancy coffee). If I can get just 50 readers to sign up and commit to this very small regular monthly amount, I can cover all hosting costs for the site and also have enough spare for any incidental site-related expenses. Of course, I'd love it more than 50 of you felt able to support me in this way. I like to feel that this site fills an important gap and that giving up a very small monthly in order to help keep it running is not too much to ask.
I hope you all agree.
Friends of Sharksworld will get a unique image above their profile picture. In addition, if any Friend in good standing needs me to use Sharksworld's reach (via the website, FaceBook or Twitter) to publicise a (good) cause on their behalf, I will gladly do so.
Please click the button below to set up your monthly payment via PayPal, or (of course) do email me if you have any questions whatsoever.
Be a friend – buy me a coffee!
Note: Any UK-based Friends might prefer to use the GoCardless solultion, which sets up a Direct Debit direct from your bank to mine and thus avoids a lot of PayPal's charges. You'll need a UK bank account to use this service, but if you do, you can sign up as a Sharksworld Friend by clicking here.
Tweet