Slot machines are one of the most interesting casino games mostly because of their interesting themes which attract players in accordance to their taste. There are plenty of casinos offering good slots, such as SA online casinos, with a variety of slots and all kinds of casino games.
Now if "Jaws" is your favorite movie, you are a great fan of "Shark Week", and you adore shark themed games and sharks in general, then I guarantee you'll find this article interesting. Here we'll present you some of the best shark-themed slots where you can enjoy playing what you love.
The Shark
The Shark is a five reel and 9 payline slot machine from Real Time Gaming. The game is underwater-themed and the main slot symbols are the following: a clam, a treasure chest, an octopus, a starfish, a rainbow fish, a sand dollar, a shark, and a sea horse. It's an adventure game with two bonus rounds, besides the incredible progressive jackpot that starts with $1,000 and it offers 20 amazing winning combinations. It's quite an interesting game that gives you the opportunity to win some great bonuses and jackpots.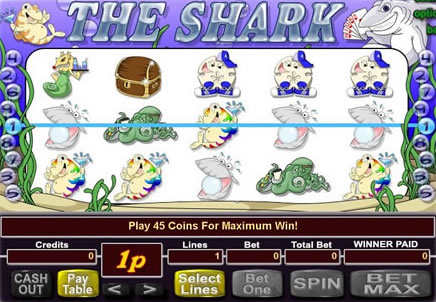 Shark School
Shark school is a funny fish-going-to-school kind of slot machine with 5 reels and 50 paylines brought also by Real Time Gaming. It seems these guys love sharks. It's very unique with a bunch of nerdy fish with school backpacks ready to learn and get some knowledge, and a teacher who gives his best to teach them something. There is a bonus game named "Swim Fishy, Swim" where the shark moves towards the fish, and the fish runs away from the shark. The main slot symbols are the fish, and of course, a bunch of letters they are supposed to learn.
Shark Bite
Shark Bite is a game where you pray to encounter the predator since it's the best slot symbol that brings the greatest win. This is a 5-reel and 25-payline online video slot and it's not progressive. Unlike the previous two, this game is not brought by Real Time Gaming, but from Amaya Gaming.
Shark bite's theme reminds a lot of the animated movie Finding Nemo because it has a lot of main slot symbols that look awfully like some characters from finding Nemo, such as Nemo himself, turning and circling when he's on a winning payline.
You can play Shark Bite at Slotastic using this bonus.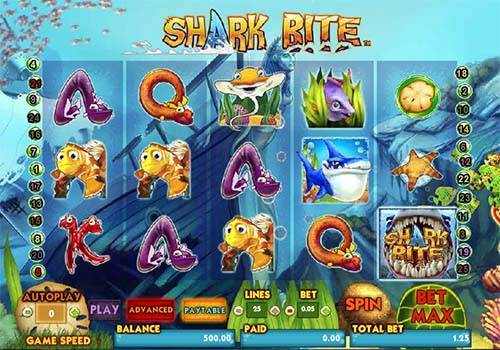 Wild Shark
Wild Shark is a slot game brought to us by Amatic Industries and it's made up of 5 reels and incredible 50 paylines. You really have increased chances to finally reach that win you've been waiting for so long. The graphics are awesome, crystal clear, and it's a really fun and addictive game. The main slot symbols are various underwater creatures and fish, it's incredibly colorful and pleasant for the eye. There is a free spin bonus available, and the wild symbol, of course, is the wild shark, like the game's name.
Tweet